Table of Contents
---
Letter from the Executive Director
Dear Friends:
Who's your village?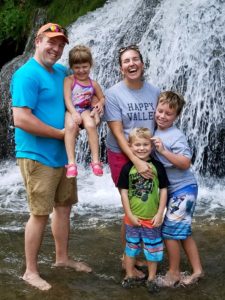 My family and I moved to a new town a year and a half ago, leaving behind everything and everyone that we knew. Our new church quickly became our village. We encourage each other, challenge each other and care for each other. I love it.
When I marvel at the ways that the Lord works in this world, I see Him so clearly in the relationships that are forged between His people. I see Him in how quickly kindergarteners cement new friendships. I see Him at work in how He's paired me with such an eclectic, fun and determined group of men and women to lead CCH's ministries together. I know He's the one who pulls together teams of volunteers who don't know one another at all but then uses their unique gifts to work in miraculous ways in Haiti.  As we work and walk together, He's using us to encourage each other, challenge each other and care for each other.
This Coalition is a village – it's our village.
At CCH, we regularly celebrate what God is doing through the Coalition. I think we're good at not taking that for granted. But we must also look ahead and prepare for what's coming. We must ready ourselves now – because the work is far from done!   
I have this fire in my belly that tells me something special is happening here. The stories told in this newsletter reinforce that sense of anticipation. With a very grateful heart, I thank you for being a part of this work. And with a spirit of expectation, I challenge each of us to commit ourselves to being an active and generous participant in whatever is it God has planned for CCH – now and in the future. Find a way to stretch yourself a bit further – do a bit more. There are needs and opportunities specified in these pages. Are you ready?
– Clark Seipt
Executive Director, CCH
---
HEALTHCARE
Did Somebody Call for a Doctor?
We want to shout from the rooftops how much we love our healthcare volunteers! Since our July newsletter, 5 teams of doctors, nurses, and students have changed lives in Haiti. Teams led by Dr. Eunghwan Kim (Dentistry), Dr. Nancy Eisele (Ophthalmology), Dr. Lori Dabinett (OB-GYN), Dr. Suzanne Yoder (Pediatrics) and Dr. Wayne Reichman (Vascular) worked tirelessly alongside CCH's Haitian doctors and nurses to serve patients and provide healthcare training.
There are so many powerful stories from these past months at the clinic. Take 73-year-old Mr. Sanom (photo top left), for instance. He came to the CCH clinic with a hernia, which left him unable to support his family as a construction worker. Connecting with CCH, Mr. Sanom was not only able to understand his medical condition but also have it treated by competent, caring doctors and nurses at CCH's Jim Wilmot Surgical Center. We're pleased to report that he's feeling better and back to work.
Interested to serve in our Clinic? Contact Audrey at audrey@cchaiti.org.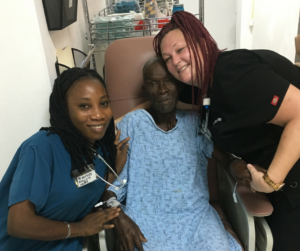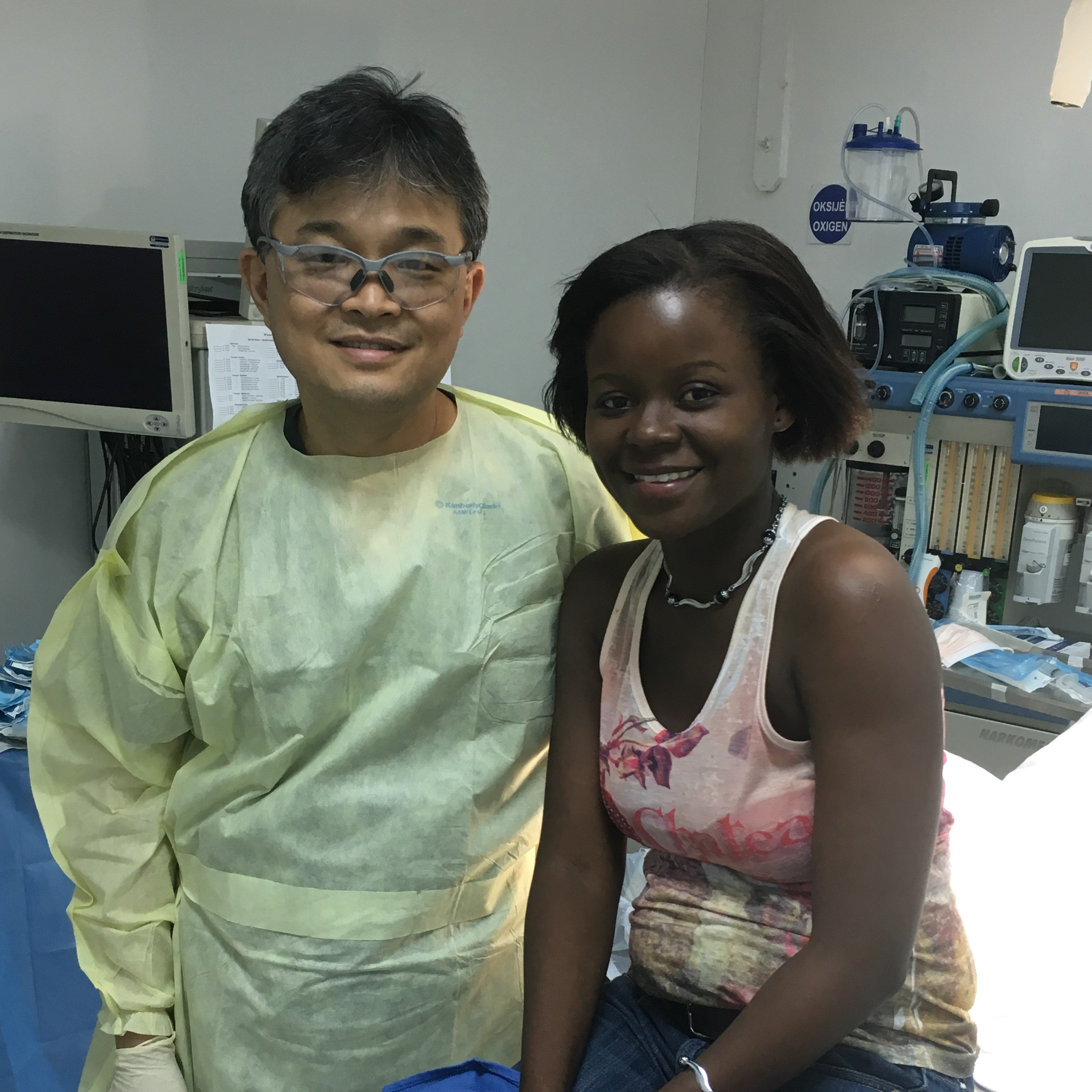 Left: Haitian nursing student, Ramonite (left), and US nurse, Jen Riley (right), prep their patient with an IV and some TLC. Of her experience in Haiti, Jen says, "Amazing place and people. They treat us like family while we are here." Right: Dr. Kim with his dental patient, Nancy, who required multiple services and several visits.
---
Hands On Learning
by Carley Jackson (CCH Healthcare Intern, Summer 2017)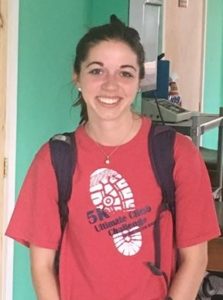 "From patients with broken femurs to paraplegic patients to stroke patients to patients still rehabilitating injuries from the earthquake in 2010, I have seen so much at the CCH Physical Therapy Clinic.  I worked side-by-side with Juberson (the PT) to evaluate new patients, gaining knowledge in PT, physiology, and designing treatment protocols. I have seen Barbo and Baker (the PT aides) use inventive treatment techniques, and have been able to assist them in their daily responsibilities. There are many things about the clinic that are different from anything I've ever seen.  The few machines they have are outdated, the clinic is so packed in the morning that patients share beds, but the quality of the treatment is outstanding considering the circumstances. The staff really cares about the patients, and the patients really work to get better." You can read more on Carley's blog, "clinics, creole, and coconuts."

---
Prevention > Treatment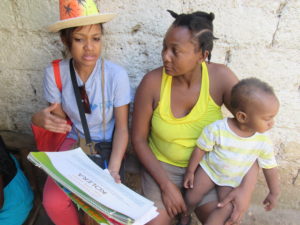 The end of summer ushered in the rainy season in Haiti, and with it, an increased threat of cholera–a water-borne disease. To anticipate the problem, CCH proactively trained 6 Haitian nurses (like the one in the photo, left) to provide cholera prevention training to an additional 4,000+ rural families in Southeast Haiti this fall. These nursses went out into rural communities and educated people on cholera and how they can protect themselves. Training families and communities in water sanitation practices will prevent many people from becoming sick and reduce the number who need treatment – saving money and lives.
CCH also distributed treatment kits with re-hydration salts, soap, and disinfectants so that people who contract the disease in rural areas can begin treatment at home right away instead of having to wait until they can be transported to a clinic. By year end, this initiative, sponsored in part by Brother's Brother Foundation will have reached more than 66,000 families living in areas with limited access to healthcare.
---
EDUCATION
Exploding Volcanoes and the Teenage Brain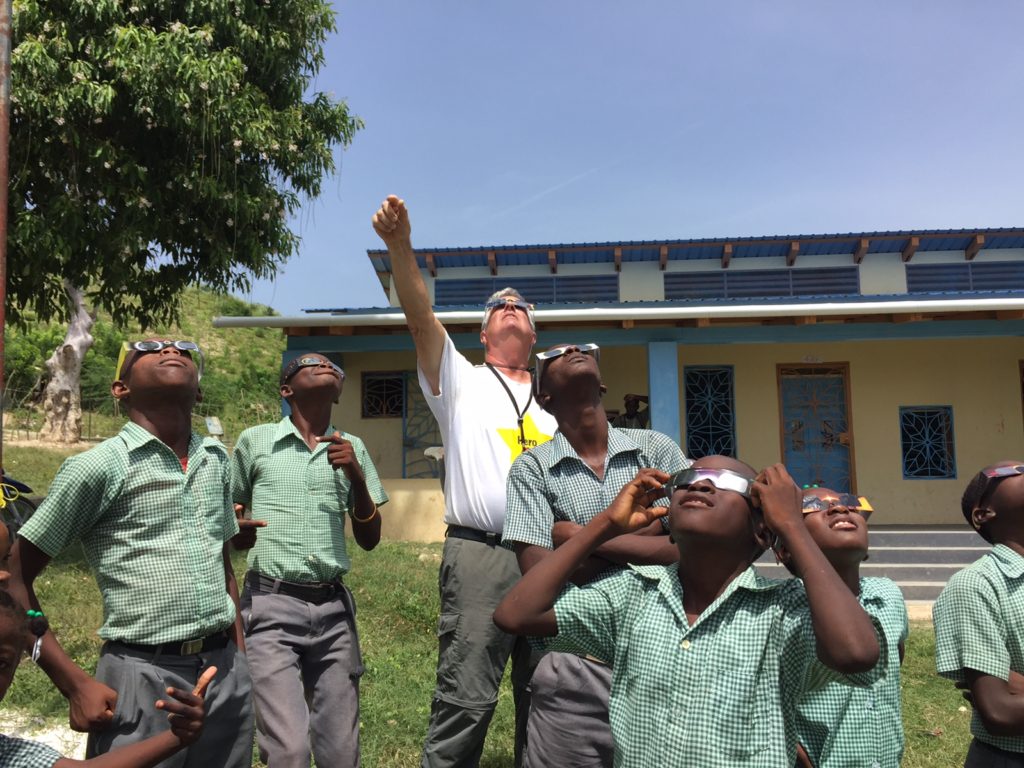 The intrepid heroes of the CCH  Education Team traveled to Haiti twice since our last newsletter. In July, they helped host a science & arts camp, and in October, they continued teacher trainings and screened rural students for vision problems. Summer camp highlights included: homemade volcanoes, geology lessons with solar viewing glasses, music lessons on recorders, strategy games like Othello, dramatic re-enactments of Haitian history and art class. And that was just for the students!
Teachers got to go to camp too where they learned about the teenage brain, classroom/time management skills, calendar math, the writing process, and how to incorporate scripture lessons into classroom activities.
In October, we made a big push for health and vision screenings at our 3 partner schools.  Teachers participated in 8 seminars on topics like: how and why to teach art, puzzles and games for brain stimulation, lesson planning, poetry, and large/fine motor development and how to spot delays.  We also dug into the complicated reasons why school attendance varies so much at our partner schools.  Dave Pierre (CCH's Education Liaison) visited families of students who haven't been coming to school to try and better understand the problems they face.
Student Sponsors Bring Learning to Life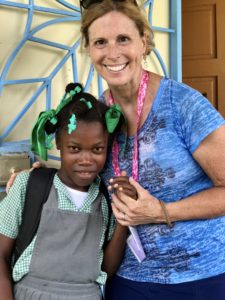 In September, CCH's Back to School Sponsorship Drive welcomed 16 new student sponsors.  Student sponsors like Barb Pugliese (pictured left) help students like Dachnaica, at Mt. Fleuri school with a monthly gift of $30 that subsidizes tuition, covers books, school improvements, health check-ups and a hot, protein-enriched meal every school day.
We celebrated all of our student/teacher sponsors and education volunteers with a luncheon hosted by Vienna Presbyterian Church.  CCH Education Liaison Dave Pierre participated in a Q&A session during the lunch, thanks to Zoom videoconferencing.
We know not everyone can travel to Haiti. CCH is blessed by a devoted group of education supporters who make these ministries possible – in a multitude of ways. Thank you!
If you want to get involved with the CCH Education Team and volunteer in the US or in Haiti, please contact Emmy Parker at emelieparker@gmail.com.  
---
COMMUNITY DEVELOPMENT
Wellness at School and Home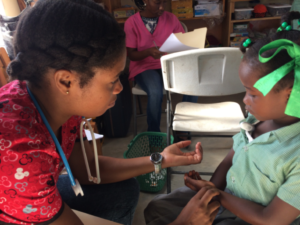 CCH's focus on total wellness is a key pillar of our community development programs. One of the biggest impacts we've made towards wellness is serving students and families through school based health clinics. Three times a year, we bring our mobile clinic, doctors, and nurses (like the one pictured here) to each school and provide health check ups and medications for 400+ students. Parents come to the wellness clinics to network with other parents and discuss any concerns they're seeing at home.
Many parents cannot easily come into the clinic in Jacmel; they're so appreciative when we bring the clinic to them.
In October we expanded our services with vision screenings for the students and teachers. We caught several cases where prescription or reading glasses instantly improved their quality of life.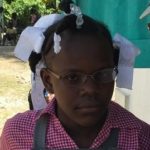 For a few students, we've caught serious health issues, like Marlange and Kenson. Marlange Alexis attended a wellness clinic at her school in October, and failed her vision tests. Dr. Nancy Eisele, a volunteer ophthalmologist, diagnosed her issue as a genetic one (also shared with her brother at the same school), and plans to return to Haiti and operate in the spring. (Read more of the story on our November blog.)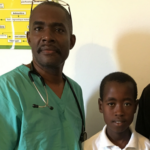 Kenson's life-threatening heart condition was discovered during a wellness check too. CCH's Dr. Francois knew that we couldn't take on his surgical case, but worked together with our network of partners in Haiti to find help. Kenson's dad says, "If it weren't for CCH and the Haiti Cardiac Alliance, my son's heart condition never would have been discovered and he wouldn't have survived another year." (Read more of the story on our August blog.)
But for every dramatic story like Kenson and Marlange, there are hundreds of regular families benefiting from these wellness clinics too. Parents are so grateful to find out what that rash is, or have ibuprofen at home for the next fever, or just be reassured that their children are healthy.
---
The Birds and the Bees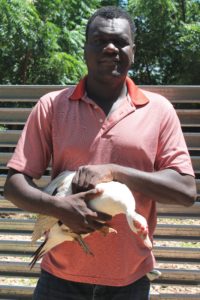 Our livestock and agriculture programs continue to lift up families and communities.  A honey extracting centrifuge was shipped to Haiti this summer and will be used to harvest honey from our 14 community behives around Jacmel.
School gardens are thriving. Junior Saint Louis is CCH's Partnerships Liaison. He heads up our school garden program, which helps kids understand not only the importance of eating healthy but also how to grow their own food. Before school started this summer, Junior was tilling the soil and preparing garden beds at four of our CCH partner schools. Throughout the school year, Junior has been going to the schools and teaching 4-6th grade children about gardening. He starts in the classroom explaining techniques and concepts, then the class heads outside for hands-on experience to practice what they've learned. Fruits and vegetables from these school gardens help supplement the hot, protein-enriched lunches CCH provides for kids at school. And as a bonus, if we have a bumper crop they can take some home to share with their families.
In our livestock program we're experimenting with raising ducks and geese in a new CCH-managed lot next to Isaiah House.  Families in partner communities can receive a one-time gift of livestock and plenty of follow up training to help feed their family and earn income. Check out Gifts for Good for how you can give a gift of goats, turkeys, chickens and more to a family in Haiti!
---
Team Building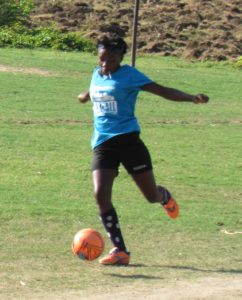 "Gooooal!" is the same in every language thanks to international fervor for soccer. We were thrilled to welcome volunteers from the soccer teams of Shenandoah University and FC Shenandoah Elite club this summer. They ran a "girls empowerment" camp that taught soccer and celebrated team building both on and off the field. Girls who participated in the camp have been practicing weekly and are excited to welcome back the SU women's soccer team for another camp in January 2018. We've seen these girls grow so much both in soccer skills, and in self discipline as they remain committed to the team.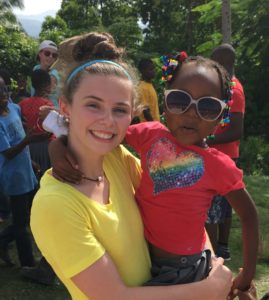 Team Building was also a theme for the Summer Mission Project volunteers from Vienna Presbyterian and First Baptist Churches (Vienna, VA) in July. These high school and college students and adults battled the Haitian sun to help build new classrooms at Lavanneau school. They also ran a Vacation Bible School for students. Morgan Carson, a young adult from First Baptist Church says, "I often feel that I'm traveling to Haiti to help others, but truth be told, I feel like I receive all the blessings."
JOIN THE COALITION
Everyone Can Serve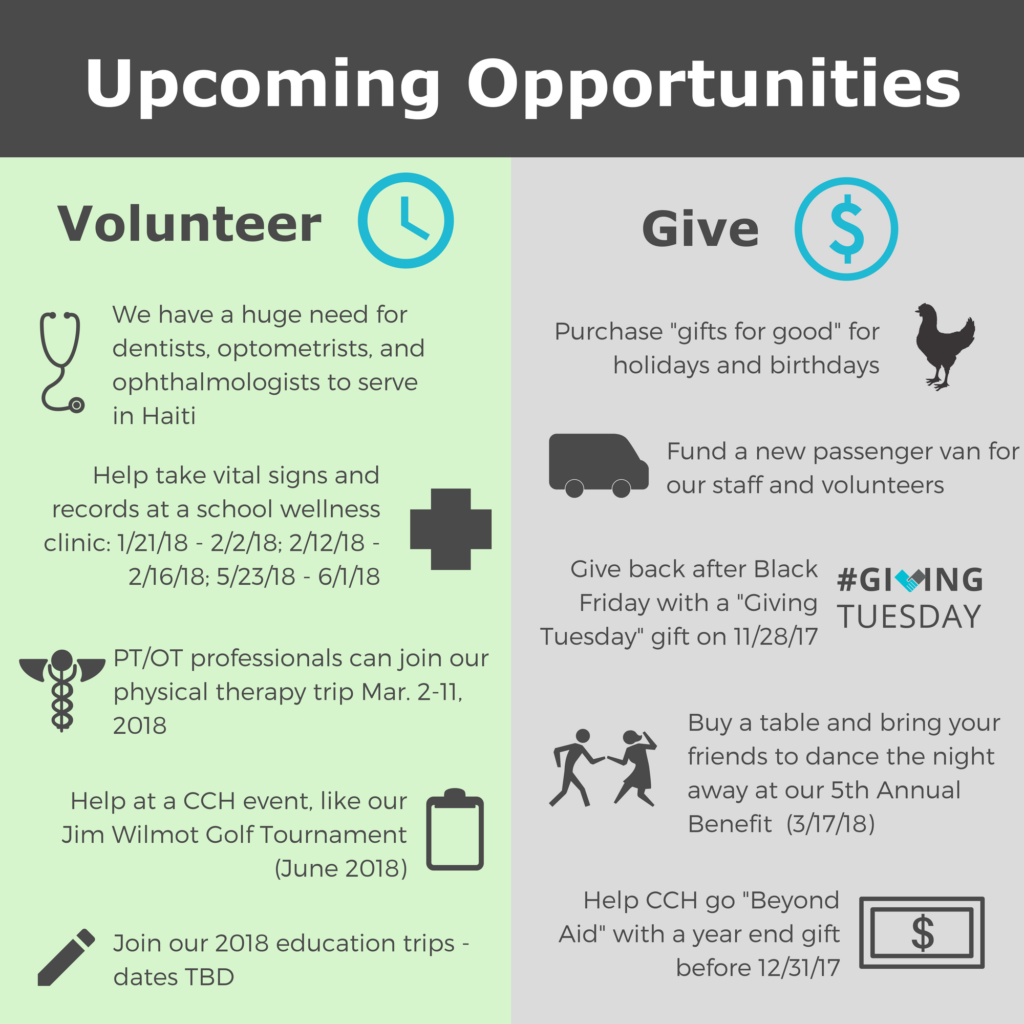 We celebrate how each one of you contributes in your own unique way to our mission. We want to thank everyone who:
Gave a donation or "Gift for Good"
Came to Haiti as a volunteer
Attended or volunteered at a US event
Donated: recorders, hygiene kits, books, pill bottles, soccer equipment, OTC medications, fluoride treatments, or eclipse viewing glasses.
Sewed a dress or reusable pad for girls
Shared professional expertise with CCH's board/staff/volunteers
We are all part of the Coalition! Please check out the infographic here for more ideas and opportunities to join us and make an impact.
---
Let's Go Beyond Aid
For 26 years, CCH has focused on building long-term sustainable solutions, always in partnership and always with an emphasis on training. Why? Because we believe that empowering Haitians as agents of change is how real and lasting change is accomplished. Helping Haitians help themselves – that's beyond aid.  
Support CCH with a year-end gift online, and your dollars will go beyond aid.



---