Consider a Gift for Good for a special holiday or birthday by giving a gift of livestock to Haitian family.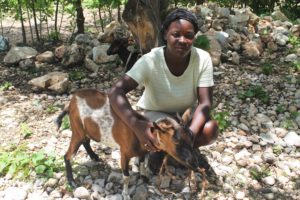 Your gift keeps on giving; as a family cares for and breeds these animals, they build an income to support themselves. Critical training in animal husbandry is provided by CCH staff along with important follow up to insure success. Families receiving gifts of livestock learn to pay it forward, as their flocks or herds increase by supporting other families and/or the community school.
Choose a gift from the list below and we will send a card acknowledging your gift to your loved one, but please be sure to include their name and address in comments section at the end of the form.
If you're in the Virginia area this December, you can check out one of our "gifts for good" markets at a local church where you can purchase livestock gifts as well as Haitian art and jewelry that supports local artisans. Check out our events page for more info.
The payment processing form below is secure with an SSL certificate available by clicking the link at the bottom. If you would prefer to enter payment information directly into this same form on an https:// website, please click this donation link.