Remember Kenson? He is a student at one of CCH's rural partner schools and he underwent cardiac surgery a few weeks ago.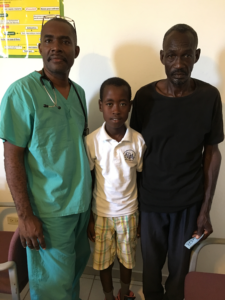 Above: Dr. Francois, Kenson and his dad before surgery. Below: Kenson and dad back at the CCH clinic after surgery.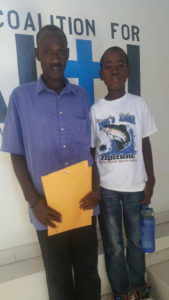 Last month we posted about Kenson on our Facebook page asking for prayers during his surgery. We are delighted to announce that he and his dad are back in Haiti and Kenson is looking healthier than ever. We praise God that his surgery was successful and he is recovering well. That's the short version of the story. But the long version has a few more twists and turns, and highlights the Coalition — the vital network in Haiti and beyond…
As we said, Kenson goes to school at EMEVO, a partner school in the mountains around Jacmel, Haiti. His parents knew Kenson was different from other children because he would sometimes collapse when playing at recess or at home, but they didn't know why. Kenson's father is a street merchant who sells cold beverages, earning about $3 (USD) per day to support his large family. Without CCH's financial support of the school, Kenson's family wouldn't be able to afford the tuition.
This past school year, CCH piloted a wellness program at partner schools where our mobile clinic visited each school and provided health check-ups for students. It was at one of these wellness clinics where CCH physician, Dr. Francois, discovered Kenson's heart condition. Knowing that CCH would not have the doctors and equipment that Kenson needed for surgery, CCH began contacting other health organizations in Haiti that might be able to help.
The Haiti Cardiac Alliance stepped up and took Kenson's case along with many other patients needing cardiac surgery in Haiti. This organization transported Kenson and others to the Cayman Islands for their surgery and covered all expenses related to surgical care, housing and food. In a country like Haiti, where specialty care is simply not available or affordable for millions, we can only pray that more organizations will take on this challenge like the Haiti Cardiac Alliance.
Throughout his medical journey, CCH and Dr. Francois have remained in contact with Kenson and his family. We've been keeping in touch with the other hospitals and doctors to make sure his healthcare team is coordinating their efforts. CCH will continue the follow up care for Kenson on a monthly basis and will also supply post-op medications for him — medications he may need for a very long time. Kenson's dad says, "If it weren't for CCH and the Haiti Cardiac Alliance, my son's heart condition never would have been discovered and he wouldn't have survived another year."
We thank God for Kenson's repaired heart, and we thank the Coalition for making it possible. Without the CCH student sponsors that support our partner schools, the new mobile clinic and school wellness program, the CCH doctors and staff, other nonprofit organizations in Haiti, and many generous donors around the world, Kenson's story might have had a different ending. "But as it is, God arranged the members in the body, each one of them, as he chose. If all were a single member, where would the body be? As it is, there are many parts, yet one body" (1 Corinthians 12:18-20).