"It was startling. Shocking for me to find Haitian women ages 29 to 30 with stage 3 and 4 cancer with no hope for treatment." – Dr. Dabinett
Dr. Lori Dabinett came to Haiti with Community Coalition for Haiti (CCH) three years ago in search of meaningful mission work that would utilize her expertise as an OB/GYN surgeon. Haiti doesn't disappoint those in search of a challenge. In the past 3 years, Lori has found both tragedy and hope among the women of Haiti.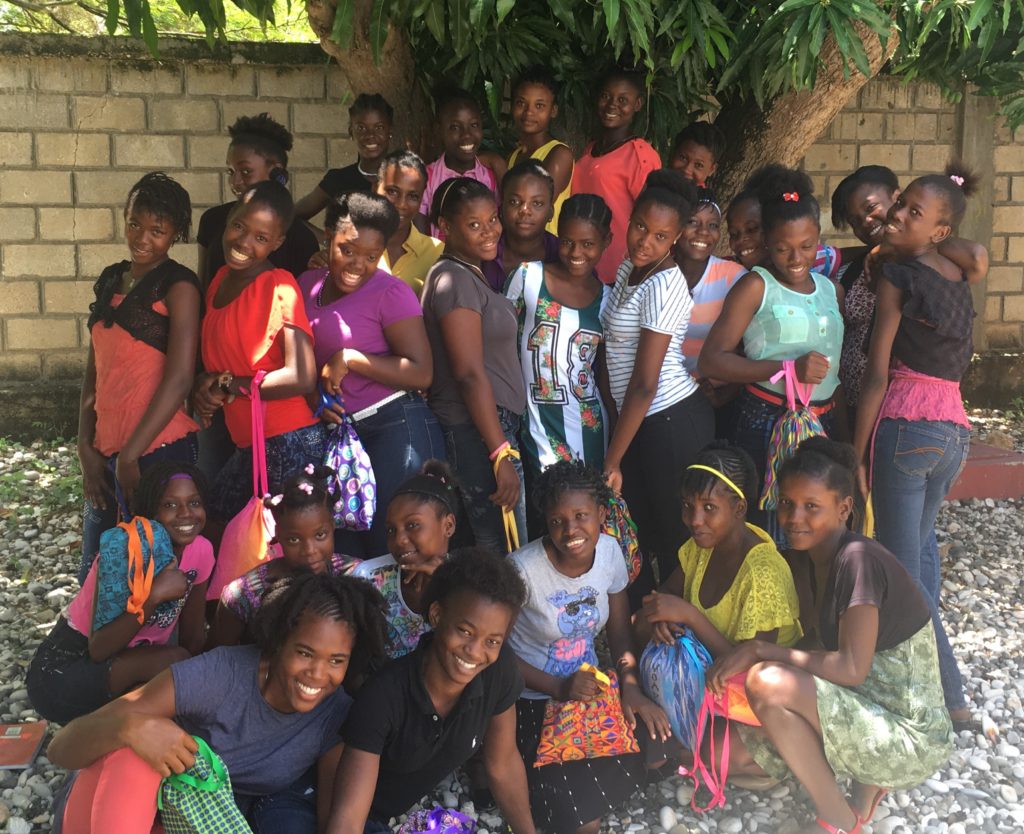 A Little Background
In the Caribbean, Haiti is classified as the country with the highest occurrence and mortality of cervical cancer, all because there is no national program for early prevention (HPV vaccine) and early diagnosis (HPV screening). A couple of years ago, Newsweek featured cervical cancer as a serious and urgent public health concern. In Haiti, 9 in 10,000 women develop cervical cancer, and 5 will not survive the diagnosis. In comparison, less than 1 in 10,000 American women will be diagnosed with cervical cancer and quite unlikely to die from it. Each year 1,500 Haitian women die of cervical cancer. HPV vaccines are unavailable in Haiti, and pathology services are scarce even if a patient could afford the cost of a pap test at $50-100 USD.*
About Lori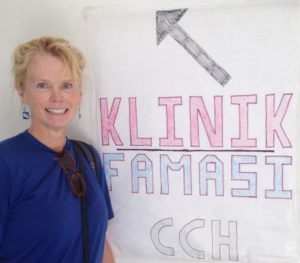 Dr. Lori Dabinett grew up in Arlington, Virginia with parents who loved to travel and a grandfather who served as a missionary in China. After medical school, Lori built her OB-GYN practice in Winchester, Virginia and desired to combine her medical skills with her heart for mission work around the world. Lori says, "Sometimes people congratulate me for the volunteer work I do, but it's truly better to give than to receive. I'm the fortunate one. I get so much more out of this than I give."
Previously, Lori served in Nicaragua with Shenandoah University (SU) and then was introduced to CCH through a presentation at SU by Knox Singleton. With Lori's help we've screened over 500 patients for cancer at the CCH clinic in the last 3 years. She gets animated talking about the cases she sees and the immense need for HPV vaccination and cancer screening tests in Haiti. "In Haiti, people are so grateful for whatever help you can give. Even if all you can do is tell them why they are dying and what to expect. God gives life. We are not in control of that. We forget because we have so much in this country."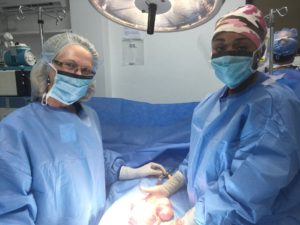 (Dr. Dabinett, left, with Dr. Lauren Outlaw, right, in surgery.)
Frederick Buechner wrote, "the place God calls you to is the place where your deep gladness and the world's deep hunger meet." Lori's glad service as a doctor meets Haiti's great need for women's healthcare. We couldn't be more grateful for her service to CCH and to Haiti.
It takes more than a village
With Dr. Dabinett's help and partnership with her hospital in Winchester, Virginia CCH is making strides to reverse these dire statistics. Our clinic in Jacmel has screened over 500 women for cervical cancer in the past two years. Dr. Dabinett has trained our primary care doctors at the CCH clinic in Jacmel how to collect pap samples. Her colleague, Dr. Bob Dillingham at Winchester Medical Center has donated 300 pap and HPV tests with pathology services this year. Pap samples are carried back to the US with CCH volunteers and shipped to the hospital for analysis. Dr. Dabinett personally sees the patients at risk for cervical cancer when she travels to Haiti.
CCH Health and Resources Coordinator, Melissa Jean-Bart, says, "Our goal is to complete 300 HPV screenings by summer 2017." Melissa is putting the word out in the region inviting women to come in for cancer screenings at the CCH clinic (photo below).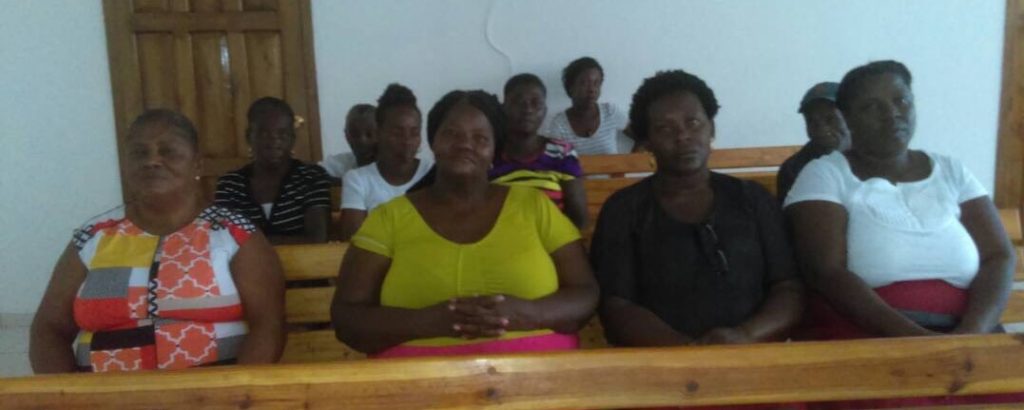 With testing and earlier detection, Dr. Dabinett is able to identify high-risk patients, and sometimes correct pre-cancerous problems with surgery. Other patients with more advanced cancers have a heart-breaking outcome. Marie (name changed for privacy) is a 29-year-old mother of four. She came to a CCH clinic screening last year with advanced cervical cancer. In a country with no radiation services, Marie has no chance for treatment. The best our clinic and Dr. Dabinett can do is offer pain management as her cancer spreads. Still, with incredible grace Marie is grateful for the doctors for the small help we can provide.
A New Era
Stories like Marie's leave us shaking our heads and asking ourselves like Dr. Dabinett did, "How can we share our healthcare resources that are so urgently needed in Haiti?" CCH is responding with women's health initiatives like our HPV and cancer screening and Days for Girls.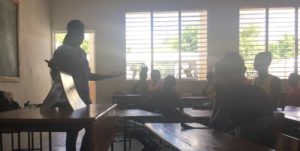 Days for Girls is an international nonprofit group dedicated to providing sustainable feminine hygiene solutions and health education. CCH has teamed up with Days for Girls to offer health seminars in rural Haitian communities. Last week, we held an event in the community of Lafond. 75 girls between the ages of 12-18 received education on women's health and sexual education (photo above). Each girl received a personal kit with reusable hygiene products (photo below).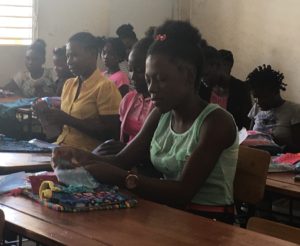 A Haitian proverb says fanm se potomitan, "women are the central pillar": of the family, of the community they live in, and of society in general. Women's health is society's health. This month as we focus on mothers and important women in our lives, let us not forget women around the world. The Bible tells us that "faith is confidence in what we hope for and assurance about what we do not see" (Hebrews 11:1) and "faith by itself, if it is not accompanied by action, is dead" (James 2:17). Let us have hope in a future where Haitian women have access to quality healthcare, and let us put our faith into action to see it come to pass.
* Data sources:
World Health Organization. Globocan 2012 (latest available)
Le Nouvelliste, Haiti. March 2017
U.S. Cancer Statistics Working Group. United States Cancer Statistics: 1999–2013 Incidence and Mortality Web-based Report. Atlanta: U.S. Department of Health and Human Services, Centers for Disease Control and Prevention and National Cancer Institute; 2016. Available at: www.cdc.gov/uscs.
GHESKIO Centers: The Haitian Group for the Study of Kaposi's Sarcoma and Opportunistic Infections, 2013. Available at: http://gheskio.org/wp/?page_id=336