Excited to volunteer and share your skills with the people of Haiti?
Daunted by the cost?
Need ideas to help fund your trip?
You've come to the right place. We realize that international mission trips can be expensive, but we never want a willing volunteer to be unable to serve because of the cost. We've put together a list of resources (below) that might be useful as you seek out additional means of support for your trip. This resource guide is also available as a PDF document that's easy to print.
Everyday Hero
Community Coalition for Haiti (CCH) has teamed up with Everyday Hero, an online peer-to-peer (crowd-funding) fundraising platform. This will allow CCH volunteers like you to raise funds to support their mission trips to Haiti.
Funds go directly through Everyday Hero to CCH and are applied to your trip invoice, and the donations are tax deductible for donors. Set up is easy, just follow the steps below.
Ask Abby Gwaltney (abby@cchaiti.org) for a link CCH's Everyday Hero Campaign Landing Page for your trip. (Getting the correct URL that links to your trip will help us make sure funds are properly coded in our accounting system.)
Go to the Landing Page and click "Start Fundraising" to create your individual supporter page. Once you have a supporter account, you can start fundraising!
Invite other Haiti trip participants to visit your team's Landing Page so they can create their own supporter pages.
Share your supporter page link with friends and family to donate to your trip.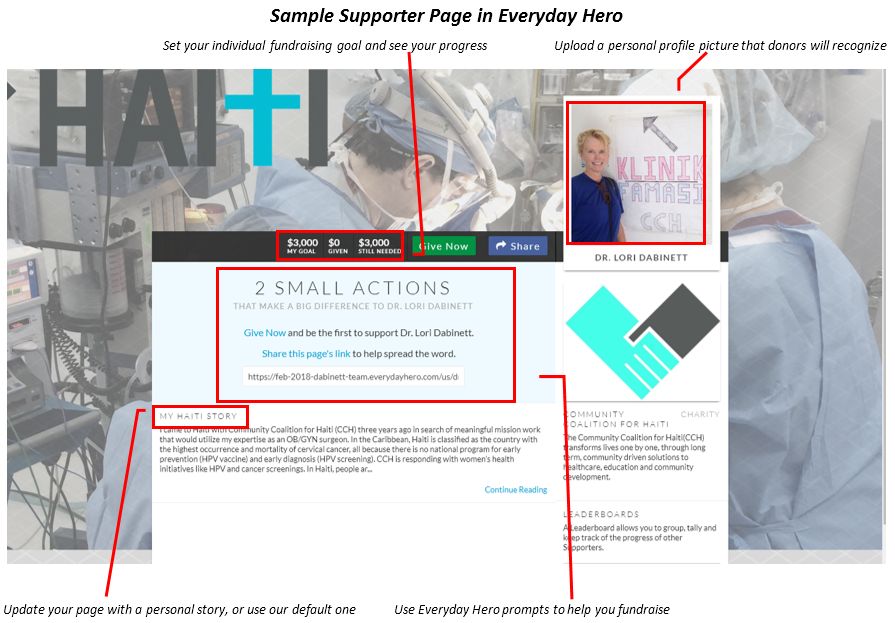 Other Resources
We're always on the lookout for potential fundraising opportunities. These are the ones we've found so far. Please note CCH has not used all the resources on this list but would love to hear about your experience. Know of other resources for funding? Contact Abby at abby@cchaiti.org.