Looking for a new home for your old recorder?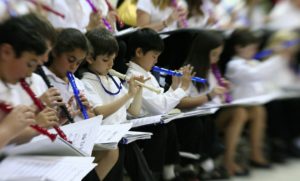 Parents, are you eager for a good reason to get rid of your child's old recorder before the long lazy days of summer arrive?
This summer the CCH education team will host an arts and science camp where our in-country director, Rubinste, will teach kids how to play the recorder. We're looking for recorders that we can sanitize and re-home in Haiti.
Recorder donations can be dropped off at Vienna Presbyterian Church before July 19, 2017. Please place your recorder in a bag or envelope with "Emmy Parker – CCH donation" written on it. The church address is below.
ATTN: Emmy Parker, CCH donation
Vienna Presbyterian Church
124 Park Street NE
Vienna, VA 22180
Thanks for giving kids in Haiti a fun music education experience this summer!