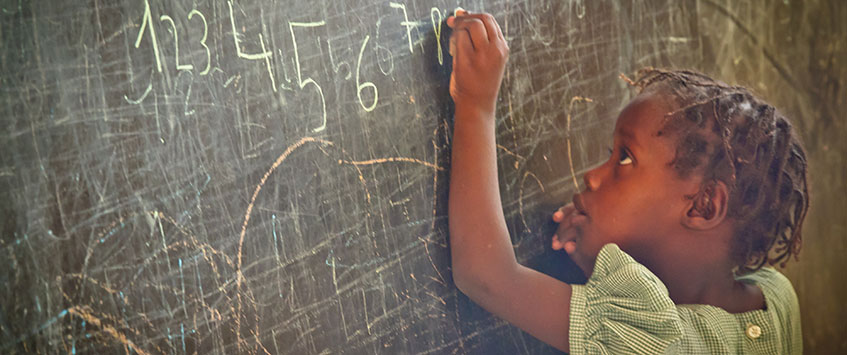 CCH Education programs promote student learning through teacher development, child wellness, and safe, learning-centered school environments. Since 2012, we have been partnering with schools in and around Jacmel, Haiti to advance these goals. We work with school principals, teachers, students and their families to facilitate the CCH Student Sponsorship Program, professional development opportunities for Haitian teachers and periodic outreach and awareness raising efforts within the communities where we serve.
To get a taste of our education program in action, please watch this short video of our summer camp in 2017. Our team of education volunteers spent a week with students and teachers from CCH partner school learning through play, including: scripture application, drama, science, strategy games, music, and art.

Teacher Development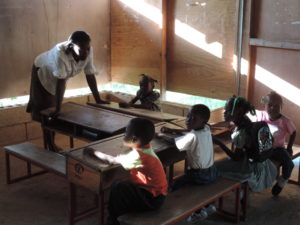 Strong, dedicated, confident teachers are integral to student success. In Haiti, it is not uncommon for teachers to lack basic supplies including books, chalkboards, and even classrooms. Many teachers also work all day and then travel many miles by moto-taxi every night to attend courses with the hope of completing their own education.
CCH works with the teachers and principals in its partner schools to provide ongoing professional development support through mentoring, seminars, back to school planning, leadership building, exam and certification preparation, and peer-to-peer learning opportunities. Our Teacher Sponsorship Program helps support all of these efforts. Working with CCH, Haitian teachers are encouraged to experiment with the tools they need to bring proven teaching styles into their classrooms – all in native Kreyol.
Child Wellness
We believe that CCH partner schools can be anchors of wellness in their communities. We work with the schools to facilitate vaccination campaigns, dental hygiene clinics, health and sanitation campaigns, and periodic wellness checks for students. Through these efforts we also identify health issues that can be addressed at the CCH clinic or by volunteer healthcare teams.
CCH also facilitates a nutrition program within three of our partner schools. The program provides a hot, protein-enriched meal to every student and staff member on every school day. When possible, the meals incorporate vegetables from school gardens that are shepherded by CCH staff but maintained by students. For many students, this is the only meal that they eat each day.
Safe, learning-centered schools
When CCH first joined hands with the Mont Fleuri community, there was no school building. When our partnership started with the Lavanneau community, the school there held all its classes in a one-room church.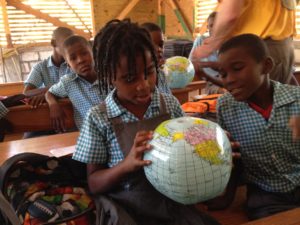 In 2012, Perkins + Will Architects partnered with CCH pro bono to design a Mont Fleuri school and community center. Construction began that same year, and the first of three school buildings was completed in 2014. Construction of the second school building, which will more than double the classrooms at Mont Fleuri, is expected to begin in late 2015.
Throughout 2015, teams of youth and adults from several churches in Virginia contributed to the re-construction of four classrooms at Lavanneau School. The classrooms were inititially constructed by members of the church and community, but community-raised funds eventually exhausted. Significant progress was made during the CCH trips in 2015, and with re-ignited commitment from the community, the classrooms are expected to be ready for use during the next school year.
At CCH we firmly believe that it takes more than just a school building for a child to learn. This is why we prioritize safe school infrastructure, as well as access to hands-on learning materials, and thoughtful classroom environments in our approach to learning-centered schools. Kreyol language books (textbooks, story books and Bibles) are a constant need that CCH is working diligently to address. Furniture that offers flexibility in classroom settings and encourages students to interact and work together is also a great need. In addition, CCH collects and delivers countless boxes of school supplies for teachers and students, tools and seeds for the school gardens and materials to support vocational training for students interested in art, mechanics or other potential livelihoods.