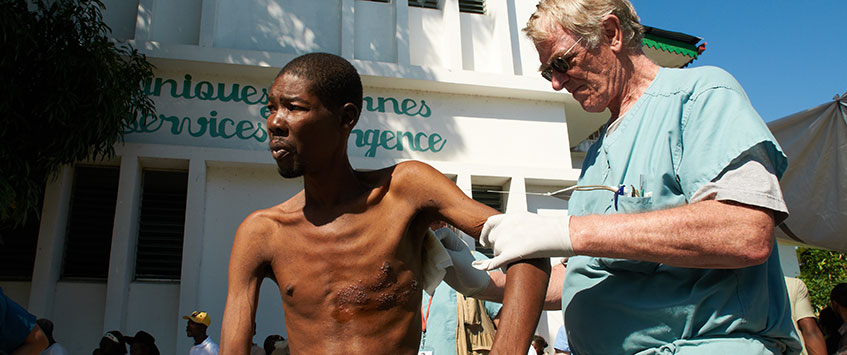 CCH operates a Primary Care and PT/Rehab Clinic, each of which is fully staffed by Haitian medical professionals. On average, the CCH Clinics serve more than 15,000 patients annually – providing access to quality healthcare to those who would otherwise not have it. Patients are treated with kindness and humility, and although patients are asked to pay a small and culturally-appropriate consultation fee for services, no man, woman or child is ever turned away because of inability to pay.
CCH's Jim Wilmot Surgical Clinic is operated by teams of US surgeons, nurses and anesthesiologists who serve with CCH in Haiti.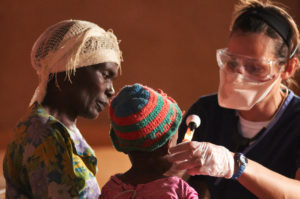 Surgical teams provide pro bono surgical care, most of which is either prohibitively expensive or simply not available in Haiti. Patients are referred to CCH for specialty surgical care through the CCH Primary Care and PT/Rehab Clinics, public hospitals and a growing network of more than 20 other NGO-run clinics throughout Haiti.
CCH staff and volunteers also train Haitian medical professionals through classroom-based and hands-on learning. Training participants include CCH medical staff as well as staff and volunteers from the local public hospital and surrounding clinics. Given its reputation and infrastructure in-country, CCH is also well-positioned to coordinate also research projects and other collaborative activities.
Interested in Joining CCH's Healthcare Efforts?
When you become a CCH Healthcare Hero, your recurring gift of at least $30 per month or $360 per year provides year-round support to the CCH healthcare mission, ensuring that patients like Nirva, pictured below, receive the quality care they deserve, regardless of their ability to pay. For less than $1 per day, you can support the life-saving care happening every day at our Primary Care, Surgical and Physical Therapy clinics.