What do we mean by "Beyond Aid"?
With your help, the Community Coalition for Haiti goes BEYOND AID every day. We strive to help our partners break free from the cycles of extreme poverty and dependence. That's why for more than 26 years, we've been working with them to build long term and sustainable solutions, always in collaboration and always with an emphasis on training. We believe that equipping Haitians to be their own agents of change is how real and lasting transformation happens.
How do we do that, you ask?
We work to PREVENT DISEASE as well as treat it, EMPOWER young women, TRAIN teachers and community leaders, and sometimes WE DON'T FIX the broken well!

---
Preventing Disease
Meet Veronique (photo above). You don't know her – but you changed her life.
When CCH walked into what was left of the regional cholera clinic in Jacmel, just days after Hurricane Matthew in 2016, we found a nurse in tears. She was crying because moments earlier, she'd hung her last IV bag. The clinic, torn apart by Matthew's fierce winds and rain, was full of very sick patients. No help was in sight, and no more supplies could be found. The nurse felt defeated.
That nurse was Veronique. CCH immediately began walking alongside Veronique and two other cholera nurses. We rebuilt that treatment center and equipped the nurses with the supplies they needed to save the lives of the men, women and children who came to them seeking aid.
But we didn't stop there. CCH also joined hands with Veronique and her team over the past year to train groups of local Haitian nurses to journey into rural communities and provide cholera prevention training. By the end of 2017, we will have provided life-saving training to more than 11,000 families!
The ripple effects of these efforts are staggering. The average Haitian home has 6-7 people living together, which means our efforts have helped protect more than 66,000 people from cholera's debilitating effects.
Our partnership with Veronique and her team is just one example of how CCH goes BEYOND AID every day. For 26 years we've focused on building long-term sustainable solutions, always in partnership and always with an emphasis on training.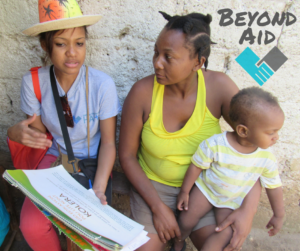 Why? Because we believe that empowering Haitians as agents of change is how real and lasting change is accomplished. Helping Haitians help themselves – that is our M.O. That's beyond aid.
Over the last year, Veronique and 24 other Haitian nurses, like Fabienne Moreau (photo left) were trained by CCH's in-country leadership team to go out into rural communities and train families in cholera prevention and safe water practices. More than 66,000 people have been reached through their efforts in the past year!
These nurses are able to do more thanks to CCH. They are Haitians helping Haitians.
They are preventing disease, not just treating it.
This is BEYOND AID.
---
Empowering Girls
Empowering girls and preparing them to be leaders is another way that CCH goes BEYOND AID in Haiti! How? Through soccer of course!
Football (soccer) is beloved in Haiti, yet very few programs are available for young girls. Usually it's the boys that are targeted and invited to play.
Local teacher, Calixte, leads girls from Lavanneau and Mont Fleuri schools in a clinic every Saturday!
Following a very successful soccer camp this summer with friends from Shenandoah University, CCH now facilitates a weekly soccer clinic for young girls from CCH's rural partner communities! The girls meet with local coaches and CCH staff each Saturday to play together, learn together and grow together. In addition to soccer skills, they're also gaining life skills! They talk about their goals, dreams and challenges with their mentors. They are reminded that they have choices and that they are in control of their own futures. This is Haiti's young women being lifted up and equipped to be leaders. This is BEYOND AID.

---

Training Teachers
CCH equips servant leaders like Mariline (photo right) to go BEYOND AID. She works hard everyday to improve the quality of teaching at the Lavanneau School where she is principal. Our team of education volunteers travels to Haiti four times per year and provides intensive training to teachers and school administrators to improve the quality of education provided in our partner schools. We also send teachers to a Haitian teacher training program with scholarships. We "train the trainers" for maximum impact. Teaching one principal in a technique like classroom management can trickle down to all of the teachers at that school, and improve student learning not only for students that year, but students in future classes as well. For more on our teacher training initiatives, please read our June and November newsletters.
---
Broken Wells
When the well in Mont Fleuri, one of CCH's rural partner communities, broke two years ago, we fixed it. When it broke again, we fixed it again. When it broke the third time, CCH In-Country Director Rubinste St Louis said, "No more" – and we've not fixed a broken well since.
Let us explain.
If CCH were to continue to fix what's broken in Haiti, we'd be perpetuating the cycles of dependence that have become far too common in its communities. If we were to send CCH's Big Blue Truck to the rescue, time and again, we'd be stealing our neighbors' opportunities to help themselves.
Instead, CCH lifts up and enables its Haitian partners, equipping them to be the agents of change that the country so desperately needs! That's why we incorporate training and leadership development into all that we do.
That's why we didn't fix Mont Fleuri's well.
Instead, we trained community members how to take care of and maintain that well. Eventually, Mont Fleuri fixed their well on their own. And guess what? It hasn't broken since.
CCH consistently goes BEYOND AID in the ways that we approach partnership and ministry in Haiti.
Let's go beyond aid.
Let's break free from cycles of poverty and dependence.
Let's equip Haiti's leaders to be their own agents of change.