The building was in ruins. The nurses were in tears. And this is where CCH (and the rest of Southeast Haiti) was instructed to send cholera patients … The makeshift building was collapsing. Having been ravaged by fierce rain and winds, its roof was nothing but gaping holes, tattered tarps and splintered wood. There was no electricity because the power cables had been stolen long ago. Two young nurses, who were living in the facility, had few supplies and had not been paid in 7 months.


This is what CCH leadership in Haiti found when they visited Jacmel's government-run cholera center just days after Hurricane Matthew.
The center is one of several such facilities established across the country during the cholera outbreak that followed the 2010 earthquake. Public hospitals and clinics are instructed to send cholera patients there. Privately run clinics, including those operated by NGOs like CCH, are told to send patients there. The center is intended to treat all acutely ill cholera patients in the Southeast department of Haiti.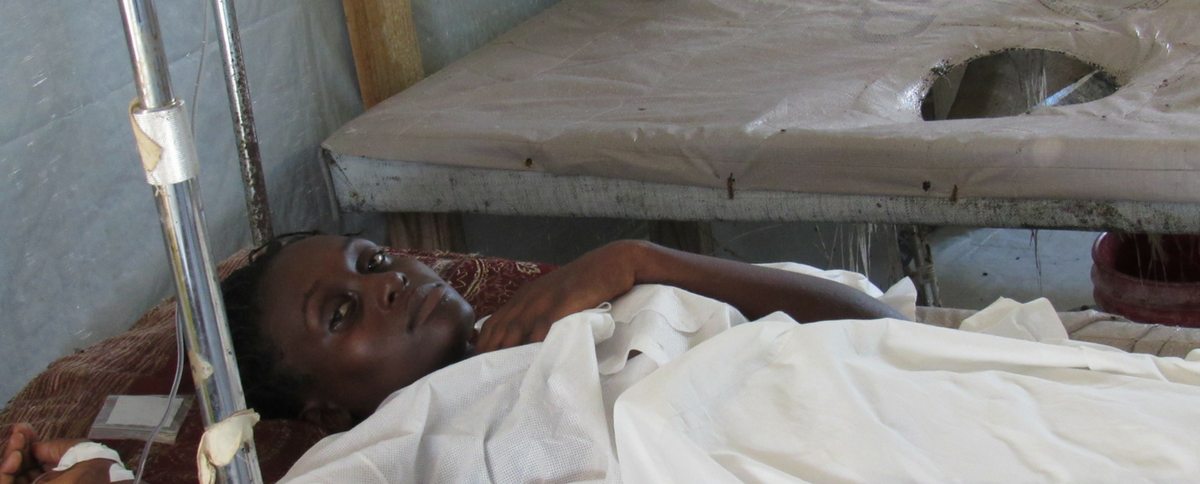 When CCH visited the center, it was empty, but cholera was already on the rise in Haiti, especially across the southwestern peninsula where Matthew's wrath was worst. This center – that was barely standing – was expected to help manage what was predicted to become a nationwide epidemic.
CCH immediately contacted its partners at St Michel Hospital, the local facility tasked with managing the cholera center. We asked how we could help and suggested ways that we could best contribute to repairing the clinic and preparing it for what was to come. Fielding other demands in the storm's aftermath, however, the hospital was overwhelmed and slow to respond.
CCH visited the cholera center again, just a few days later. Accompanied by CCH's Medical Director, Dr. Wayne Reichman, their plan was to confirm necessary repairs, better understand the nurses' protocols and preparedness and gauge their needs for materials and supplies.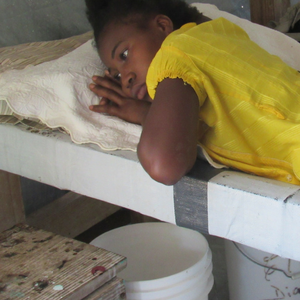 From the road, the structure looked abandoned. "This is where they are going to manage an epidemic?" thought Dr. Reichman.
When our team walked around back, they could not believe what they found. More than a dozen patients were already crammed inside, their families gathered around them. The two nurses were moving from bed to bed; they'd just hung their last three IV bags and were out of supplies. When they saw the team from CCH, their eyes filled with tears. They were terrified and desperate for help.
We called St Michel leadership; they had no idea there were even patients at the clinic. The cholera center was its own disaster, in the midst of growing devastation. Lives were very clearly at stake.
CCH sprung into action. We mobilized a team to replace the clinic's roof and walls. We transferred our stock of pharmaceuticals and other medical supplies required for cholera treatment to the center – and put out the request to our partners for more. We purchased lanterns for the nurses to use as they cared for critically ill patients through the night. We also provided clean water, food supplies and a stove so that the nurses could feed themselves as well as the scared, tired and hungry children of the sick who waited at their bedsides.
With CCH's help, the cholera center is now fully functional.




Lives are being saved within its walls. Men, women and children are being healed. CCH continues to visit the clinic multiple times per week, but we are not in charge – the nurses and leaders of St Michel are managing operations. We're simply walking with them, every step of the way. And we'll continue to do so until they don't need us anymore.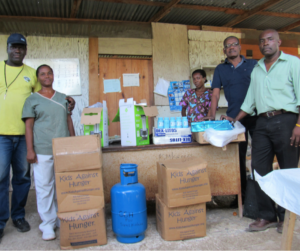 That's how CCH operates. It's how we've been partnering and working in Haiti for more than 26 years – and it's how we plan to keep collaborating for years to come.
Tremendous need remains, especially as our friends continue to recover and rebuild following Hurricane Matthew.
We were there yesterday, we're there today and we'll be there tomorrow. We need YOU with us, donate today.