Guest blog by CCH Board Member and Education Volunteer, Wanda Vander Nat (photo above).
Matthew 6:22 says "The eye is the lamp of the body. So, if your eye is healthy, your whole body will be full of light."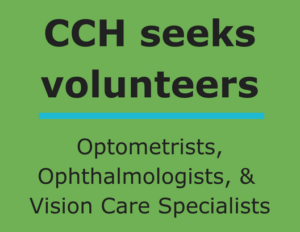 It is our hope that our new vision screening program will be the first step in detecting vision problems in children and providing needed care. If a child or adult has significant vision deficits, he or she will struggle to learn in school and may have significantly reduced work capacity.
Where are the Doctors?
by Melissa Jean-Bart, CCH Health Resources & Clinic Coordinator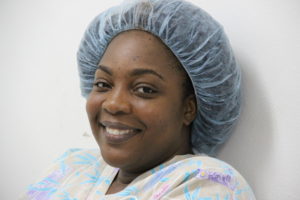 photo by Jon Gootnick
There are currently only 3 optometrists and 58 ophthalmologists (6 in the public sector) to serve all of Haiti's population of 10 million people (source: Global Eye Project and Dr. Sue Carlson, American ophthalmologist) These are predominantly located in Port au Prince, making it difficult for the majority (70%) of people to access primary eye care services. Sadly, the only ophthalmologist in Jacmel died suddenly in September of 2017.
CCH recognizes the need and conducted our first vision assessment clinic last year providing reading glasses to patients in need. This September, Dr. Eisele did our first eye care screening for surgical issues like cataracts. She will return in the spring to perform needed surgeries once we are able to ship some of her specialty eye surgery equipment to Haiti. With that equipment at the CCH clinic, we would welcome more doctors of ophthalmology and optometry in 2018 and beyond.
If you have vision health skills or connections, please consider how you might help CCH address this vital need in Haiti. Please email Abby if you're interested in serving in Haiti. Mesi!
Promoting healthy eyesight enables Haitian citizens to live a fuller and more sustainable life, but it's no easy task in a country with so few vision professionals. According to the Global Eye Project, "Unavailable eye health care is currently a public health crisis in Haiti." Read more about vision services in Haiti (and the lack thereof) from CCH Clinic Coordinator, Melissa Jean-Bart, left.
As part of CCH's Education Team, I visited Haiti in October 2017 and in addition to our usual teacher training efforts, we also provided vision testing for about 400 students at CCH's partner schools with materials generously loaned to CCH by Dr. Mary Carlson, an American ophthalmologist.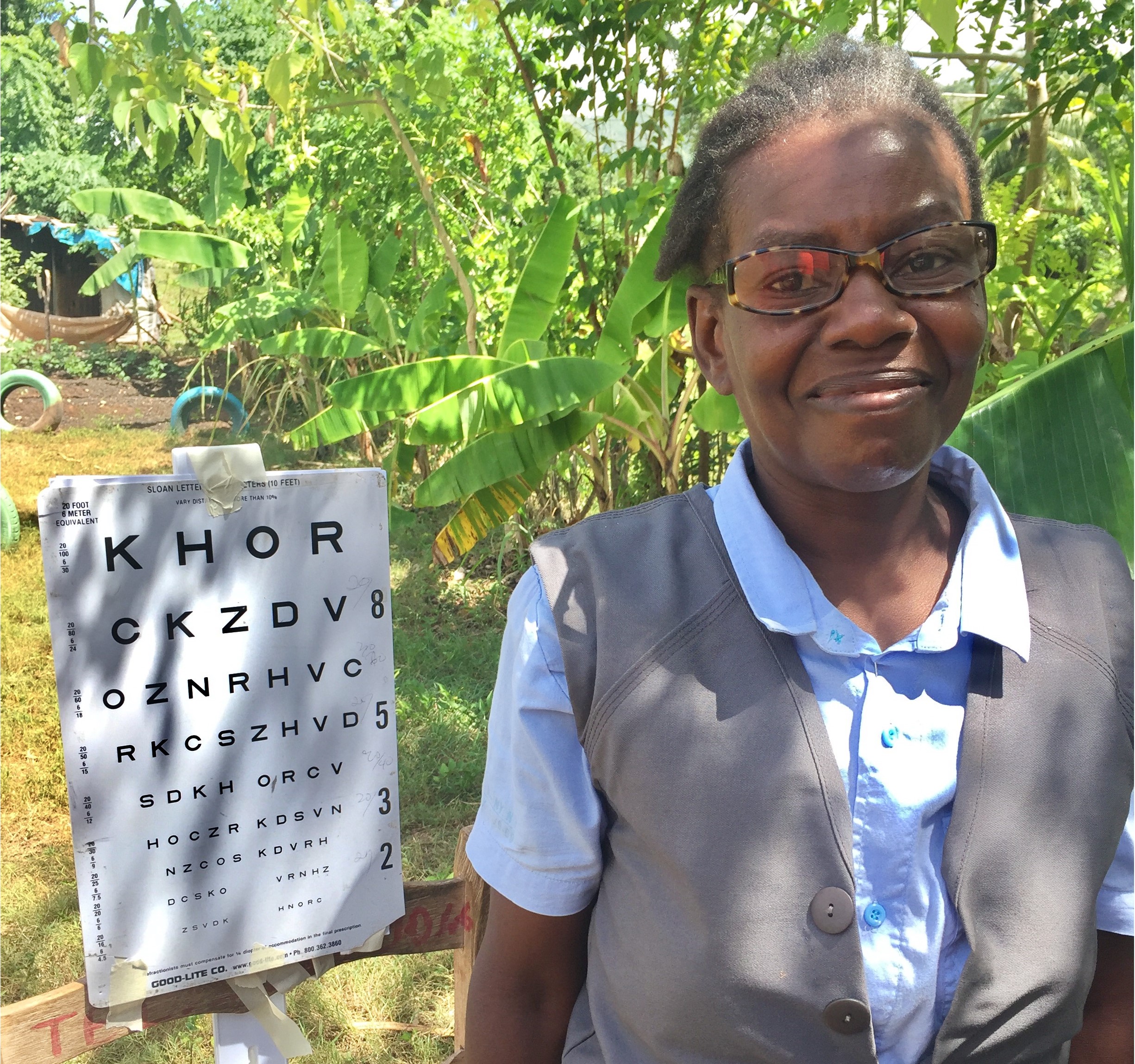 New glasses make all the difference for this EMEVO teacher.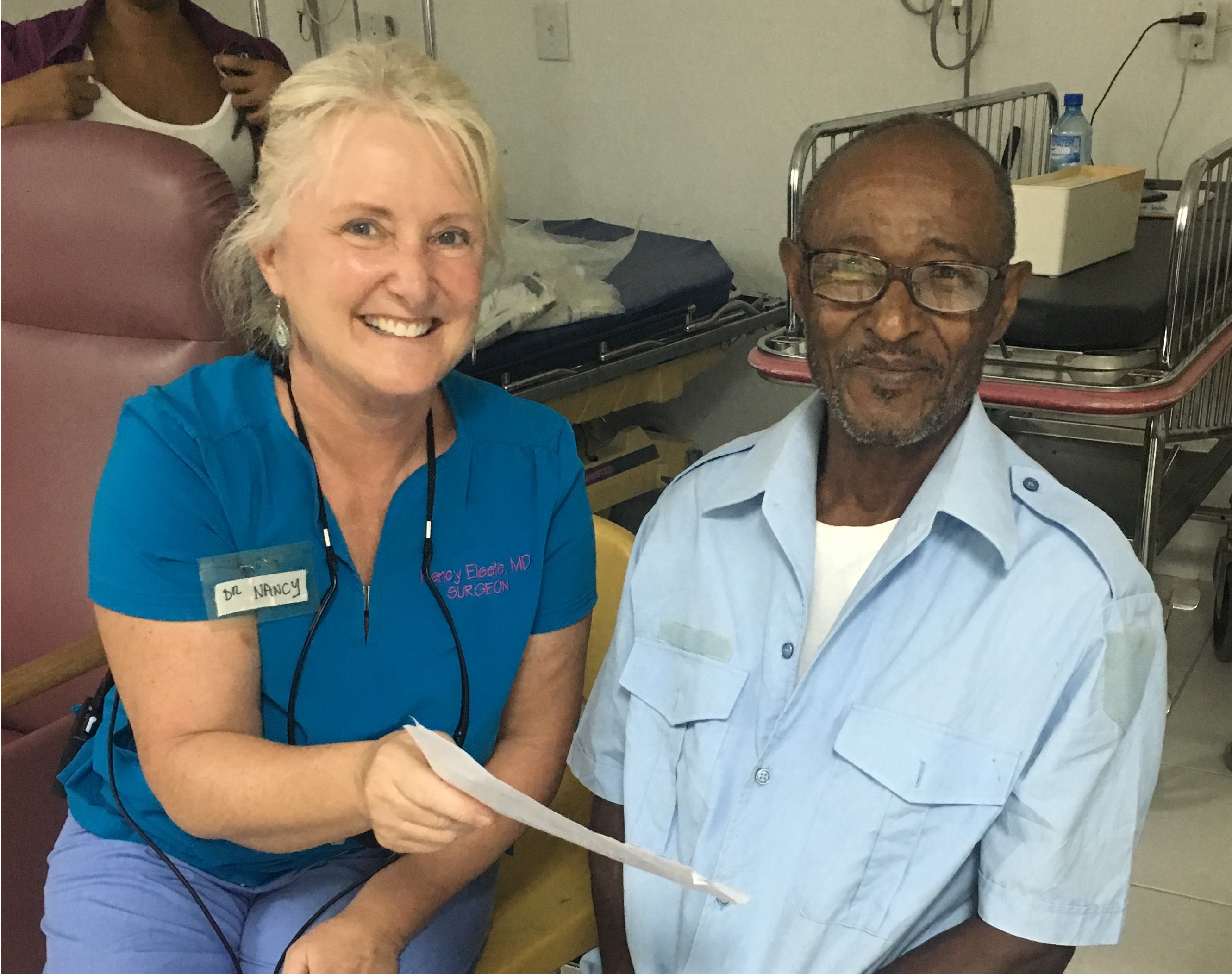 Dr. Eisele screens a vision patient at the clinic.
Within the first 30 minutes of vision screening a 6th grade girl named Marlange Alexis was unable to pass the tests, try though she did. It was startling for us to realize that Marlange could not read ANY of even the largest of the symbols on the vison chart. We were so blessed that one of the mobile health clinics was in session at the school simultaneously with the Vision Screening Clinic, staffed by CCH volunteer ophthalmologist, Dr. Nancy Eisele. We immediately introduced this student to Dr. Eisele who confirmed that she had a very serious vision deficit. Teachers were informed of her vision deficits and her need to sit near the front of the classroom in the future.
Coincidentally and because the mobile health clinic was at the school, Marlange's mother was present to talk with medical staff. This provided an ideal opportunity for Dr. Eisele to discuss her daughter's vision screening results. This concerned mom had noticed problems a few years ago, but had no way to address them. Her younger son, also attending Lavanneau school, has begun to demonstrate similar vision issues. Dr. Eisele suspects a genetically linked vision issue and she will see both children when she returns for an ophthalmology surgical clinic in spring 2018. Marlange's mom was so grateful for this service to her children.
We are thankful to:
The Lions Eyeglass Recycling Center of Northern Virginia for their generous donation of 600 pairs of glasses for this screening program. Click here if you'd like to donate glasses to Lions Club.
Dr. Sue Carlson for her work advising us regarding screenings in Haiti, training our team to conduct vision screenings, loaning vision screening equipment and being so kindly available, via email, during our time in Haiti.
Dr. Nancy Eisele for her time at Lavanneau School and support of the vision screening program. And, for her willingness to return and provide further treatment to students and adults who have qualified for further eye care treatments.