For many years, two of the founding churches of Community Coalition for Haiti, Vienna Presbyterian and First Baptist (in Vienna, Virginia), have been sending volunteers on a joint Summer Mission Project (abbreviated SMP) to serve in Haiti. These trips are renowned among the church congregations and provide life-changing experiences for trip participants both new and "seasoned." This year, 17 "SMP'ers" joined forces for an unforgettable week-long mission trip. Three of those volunteers were kind enough to share their experiences here in our CCH blog, and they each have 1, 2, or 3 years of experience with CCH!

---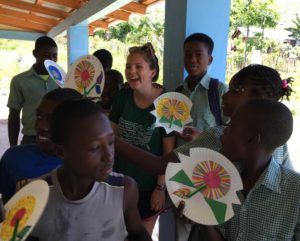 Elizabeth shows off some artwork with kids from Vacation Bible School.
Elizabeth Drake is a member of Vienna Presbyterian Church and had wanted to go on the Haiti SMP for years, but this was her year to finally make it happen. Elizabeth stepped off a plane in Port au Prince on July 10th, 2017 seeing Haiti for the first time. The team's travel flexibility had already been tested as their original flight on July 8th had been cancelled and re-booked for two days later. With no more time to lose, the SMP team made the bumpy overland journey to Jacmel and jumped into their week of school construction and vacation Bible school activities at a CCH partner school.
Elizabeth recounts her time in Haiti. "The group huddled around the table sipping coffee. Although all the mornings in Haiti were hot and balmy, this morning was particularly bad. The air sat stagnant as we waited for breakfast. At exactly 7 AM, everyone was downstairs and ready for the day. Each morning someone read a Bible verse and did a small devotional. This morning's verse was from Philippians 4:13, "I can do all things through him who gives me strength." This verse sums up the theme of the trip for me because each day presented a new challenge often requiring a lot of physical and emotional strength. Haiti is a memorable place for many reasons, in particular, its natural beauty and warm people. However, the children are what I remember most.
"One afternoon we went to visit an orphanage called Sisters of Charity. They have infants and older children at this orphanage — many of whom suffer from various health ailments. Because of the number of children at the orphanage and their many health problems, the infants are often not held enough and visitors are invited to hold the babies. I approached the crib of a tiny boy, and I tried to pick him up. He made it clear that he did not want to be held, so I just stood near his crib talking to him. One of the sisters came over and asked me if I wanted to feed him. I took the bowl of porridge and the boy immediately came to me. His hair was dotted with orange spots and it soon became clear to me that he was malnourished. Once I fed him his porridge he was happy to be picked up, and as I carried him around the room we could hear the laughter of the children outside. I smiled and then he smiled. I laughed and then he laughed. Even though we were different in many ways, this little boy reminded me of the universality of smiles and laughter. I was also amazed that this tiny child had made it to the Sisters of Charity, which just goes to show that God looks after everyone and most especially those who often cannot look out for themselves.
"Although the trip to Haiti was often physically and emotionally challenging, the smiles and laughter of all the children whether it was at the beach, the orphanage, or at the Mont Fleuri School constantly reminded me of God's grace and mercy. The trip to Haiti was unforgettable and I hope to someday make it back!"

---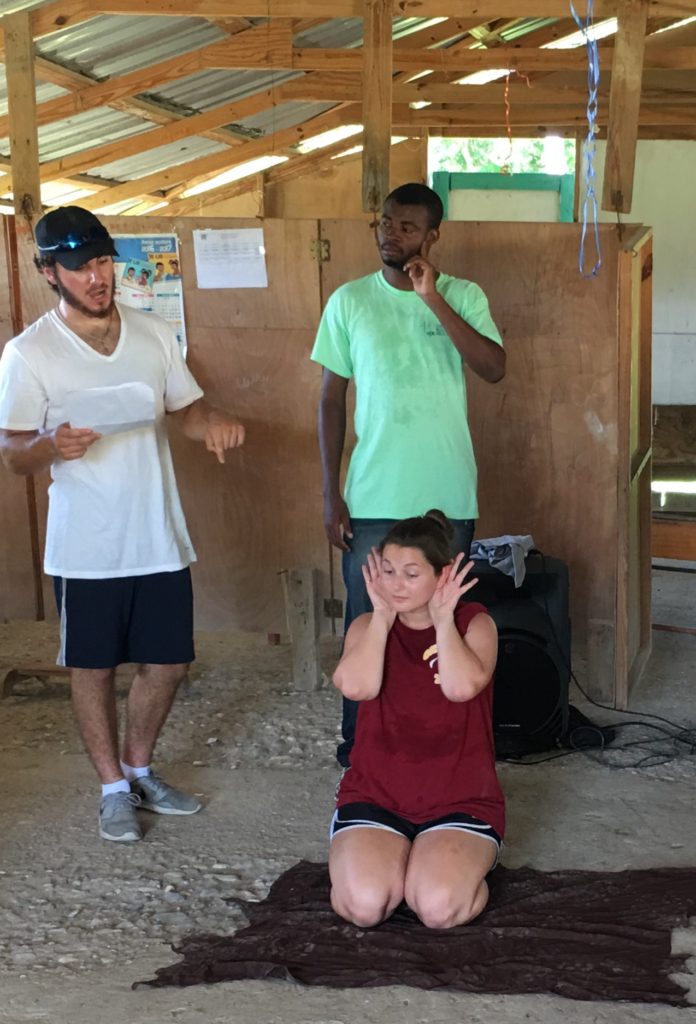 Matt (left) does a Bible drama lesson at VBS.
While Elizabeth was experiencing Haiti for the first time, she had fellow SMP'ers who could show her the ropes. For Matt Ricciuti (also from Vienna Presbyterian Church), it was his second trip to Haiti with CCH.
Matt says of this trip, "I was reminded of how God's amazing glory is reflected through His people. I've learned that no matter what the circumstance, His love is everywhere. Being surrounded by a community of believers that are working to expand His kingdom is very powerful. Whether it was through dramatizing parables for the kids at vacation Bible school, building a foundation for classrooms or simply reflecting with other trip members about the purpose of the mission, I felt deeply impacted by the experiences the Lord had set in my path. Seeing the children of All My Heart Haiti orphanage living under better conditions now was specifically moving for me. It brought joy to my heart seeing and hearing about the orphanage's advancements through the years. This trip was a humbling experience that I will cherish as I continue my journey with the Lord."

---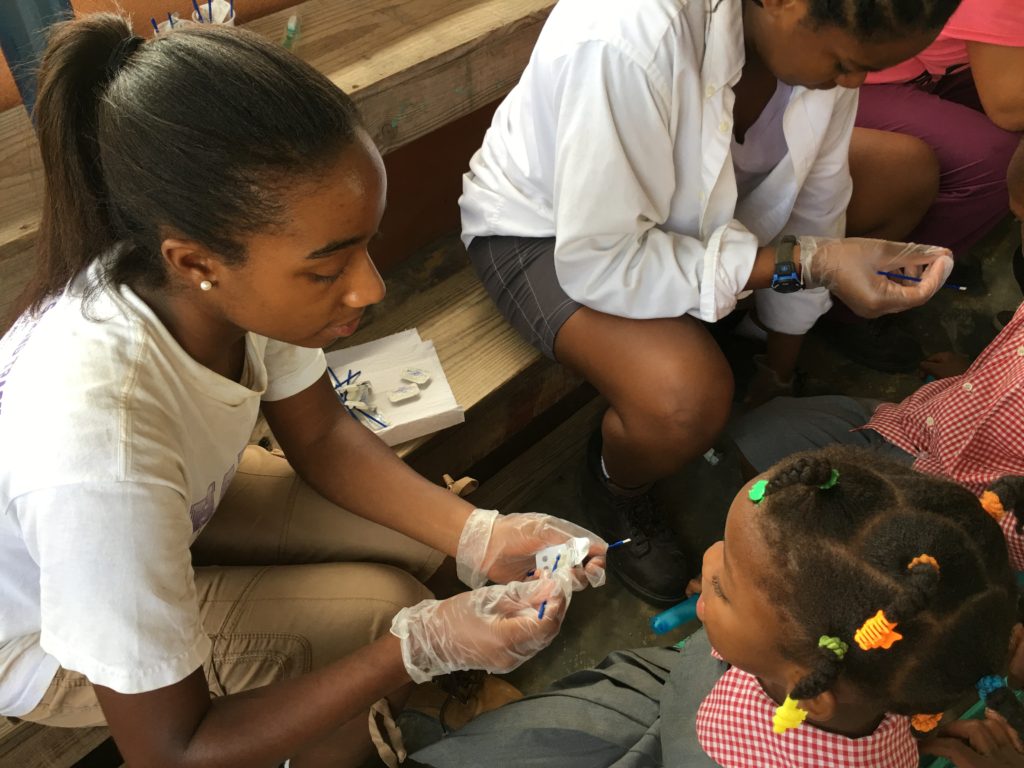 Morgan administers fluoride treatment for healthy teeth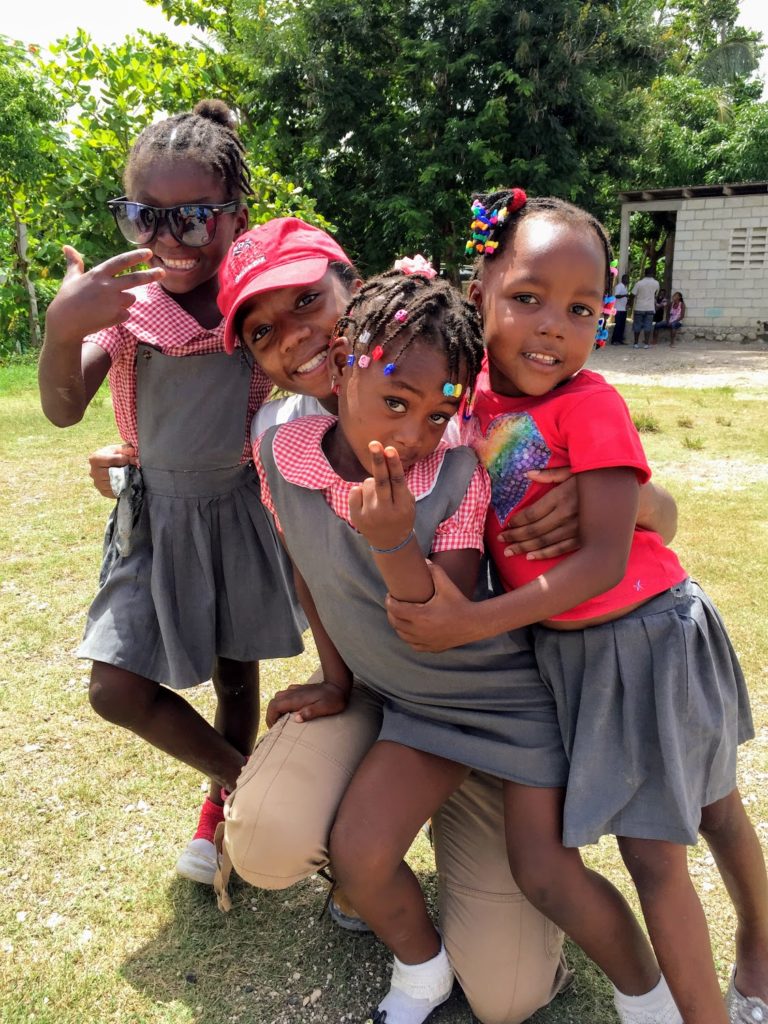 And makes new friends at VBS.
Morgan Carson is a member of First Baptist Church of Vienna and made her third trip to Haiti this year. She says, "The Haiti Summer Mission Project is a youth experience that continues to humble and inspire me while allowing me to gain a fresh and renewed perspective of what's truly important in my day-to-day life. Despite the country having so little in terms of material wealth and the rather austere environment, I have come to appreciate the Haitian people's generous and welcoming hearts and can't help but be amazed at their friendly and joyous spirits.
"For the past three years, SMP'ers have worked on constructing classrooms at [CCH's partner school,] Lavanneau, among many other activities. In addition to working as a team, this year we labored alongside Haitian construction workers, villagers, and teenage orphans from All My Heart Haiti. It is from this latter group that I seemed to have forge a quick bond with — perhaps due to our similar ages or the commonalities that teenagers often share regardless of social or economic factors. We labored and laughed together, each of us working to build a school that we will never attend and improve a village that we will never live in. When you travel to Haiti not only do you recognize the great needs, you also quickly sense a people of great resilience and ingenuity.
"I often feel that I'm traveling to Haiti to help others, but truth be told, I feel like I receive all the blessings. I think God has a way of blessing individuals well beyond their expectations, and in the process He allows us to see tangible improvements to a society that remains in desperate need."


---
We at CCH feel blessed to receive young volunteers like Elizabeth, Matt, and Morgan year after year. Whether it's someone's first, second, third, or more trip to Haiti, each SMP experience is unique. The work these volunteers do for CCH is changing our schools, and the compassion they show for others is changing lives, both Haitian and American.